Chinese: 最強囍事
Year: 2011
Director: Chan Hing-Kai, Janet Chun Siu-Jan
Producer: Raymond Wong Bak-Ming
Cast: Donnie Yen Ji-Dan, Louis Koo Tin-Lok, Cecilia Cheung Pak-Chi, Carina Lau Ka-Ling, Raymond Wong Bak-Ming, Yan Ni, Chapman To Man-Chat, Lynn Xiong, Stephy Tang Lai-Yun, JJ Jia, Nancy Sit Ka-Yin, Bau Hei-Jing, Angelababy, Lee Heung-Kam, Ha Chun-Chau, Jo Koo, Michelle Loo, Mak Ling-Ling, Wilson Yip Wai-Shun, Maggie Li, Margie Tsang Wah-Sin, Alvina Kong Yan-Yin, Marie Zhuge, Ciwi Lam Sze-Man, Zoie Tam Hoi-Kei, Fruit Chan Gor, Xie Nan, Wang Yuan-Yuan, Elva Ni
The Skinny:
Predictably scattershot and only partially amusing, All's Well Ends Well 2011 is still a decent Lunar New Year comedy with laughs, groans and a multitude of stars. And hey, it's much better than All's Well Ends Well 2009. Huge selling point: the film has Donnie Yen applying makeup to women while hanging out with an effeminate Louis Koo. It's like Flash Point 2.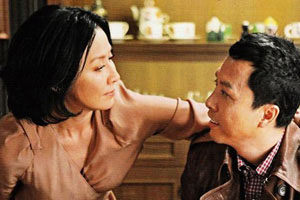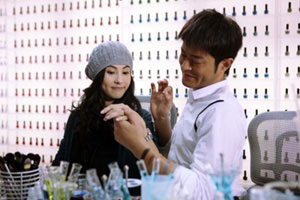 ________________________________________________________________________________
Review
by Kozo: What's Lunar New Year without one of producer Raymond Wong Bak-Ming's All's Well Ends Well movies? Who really knows? Every January or February, if there isn't an All's Well Ends Well movie jammed into the local cinema, you only have to flip cable channels until you run into the 1992 original, which gets so much play every year that it borders on tiresome. Basically, if it's Lunar New Year, there has to be an All's Well Ends Well movie playing somewhere. This axiom is, of course, only applicable to Hong Kong, which is fine because these films are meant for Hong Kong audiences. Local pop culture, local stars, local laughs – the All's Well Ends Well films are all about those. If you're a Milkyway fanboy, now's the time to turn around.
Hold on, genre junkie, you may wish to give the 2011 a second look because of one reason: Donnie Yen. The Ballistic Kiss auteur makes a ballyhooed (and high-paying) comedy appearance in All's Well Ends Well 2011, with surprising if not completely gut-busting results. DONNNNIEEEE stars as Arnold Cheng, a cosmetics salesperson who's recruited to work for a Hong Kong beauty brand called, uh, Beauty. His old beauty school chum Master Sammy (Louis Koo) needs Arnold's help because even though he only works at a discount retail chain, Arnold's makeup skills are without equal. Soon Arnold is running the Beauty counter at an upscale department store, but the snooty customers aren't impressed by a Chinese cosmetics brand. Can Arnold charm the ladies with his rapid-fire slimming punches, or will the neighboring Bobbi Brown counter reign victorious in retail jiang hu?
Actually, it doesn't matter. There's nominally a story here, but it's just a bare-bones outline that exists to string gags and big name star appearances together. So who cares if Beauty becomes a popular brand? It's all about the names, and All's Well Ends Well 2011 is loaded with them. Louis Koo's Master Sammy, a fey make-up guru who pretends to be gay to massage hot chicks, is hired to work for business lady Dream (Yan Ni of A Simple Noodle Story), but is distracted by the many girls who work in the office. Chief among them is his supposedly frumpy assistant Claire (Cecilia Cheung in her first film role since 2006), whose positive attitude attracts bizarre rich guy Smoothie (Chapman To). Meanwhile, Arnold is mooning over his first girlfriend Mona (Carina Lau), an eccentric writer who leans on Arnold while she's trying to write her latest piece of fluff fiction. Also, producer Raymond Wong makes his usual onscreen appearance but the less said about that, the better.
All's Well Ends Well films have a playbook and co-writers and co-directors Chan Hing-Ka and Janet Chun (La Lingerie, among other local comedies) don't deviate from it. Their jokes are sometimes topical and sometimes clever, and other times they're esoteric if not forgettable. You've got movie parodies, mahjong scenes, mistaken sexuality, jealous husbands, cross-dressing, crazy ex-girlfriends, Chapman To's naked ass and Raymond Wong's bare chest covered in baby oil. Yeah, some of that sounds downright nauseating, but you'll have to get through the bad stuff to get to the good stuff. What is the good stuff? Louis Koo and Donnie Yen, mainly. The former Flash Point partners play against type very well. Koo is an ace at this sort of self-effacing comedy, but he expands his range slightly, playing an effeminate playboy in a very amusing manner. His romance with Cecilia Cheung strikes few sparks but Koo is so game that it largely compensates.
However, the official title of "The Compensator" must be given to Donnie Yen, who's not an ace comedian but is a good enough sport to poke fun at his own manly image. No, Donnie doesn't act gay or idiotic, but he does brandish makeup brushes and glare seriously at homely housewives like he's auditioning for the Bey Logan remake of Sex and the City. There's comedy gold here, and a large part of it is simply the idea of seeing Donnie wrangle with Ronald Cheng over a game of mahjong, or take on ten women in an Ip Man-inspired makeover scene. Lunar New Year comedies can sometimes succeed if the stars are popular or interesting enough that seeing them act silly is worth it – and in Donnie Yen's case, it's totally worth it. All's Well Ends Well films from recent years have had star power, but not on this level. Yen is a major plus for this installment, as is Cecilia Cheung in her comeback role. Her character and performance aren't noteworthy, but hey, at least she's here.
Just seeing the stars may be reason enough to watch All's Well Ends Well 2011. Besides all the big names, there's minor appearances by Nancy Sit, Angelababy, Stephy Tang (sporting an amusing fake chest), director Wilson Yip, plus your usual assortment of local celebs, bit players and babes du jour. Product placement and production values go hand-in-hand here, with the finale set at Macau's super-lux Venetian hotel-casino. The actual climax is nothing new, wrapping up the film's multitude of middling, only mildly diverting romances. Not surprisingly, we get the mega-mega happy ending, which is only notable because Donnie Yen and Carina Lau apparently weren't able to make it to Macau (their lone appearance in the finale likely involved green screen). All's Well Ends Well 2011 is reputed to be the last of this long-running series, which we should only believe if it's 2046 and they still haven't made another one. If this really is it, then hey, all's well that ends well. Given this installment, the All's Well Ends Well series sort of does. (Kozo, 2011)
Sources : http://lovehkfilm.com/reviews_2/alls_well_ends_well_2011.html